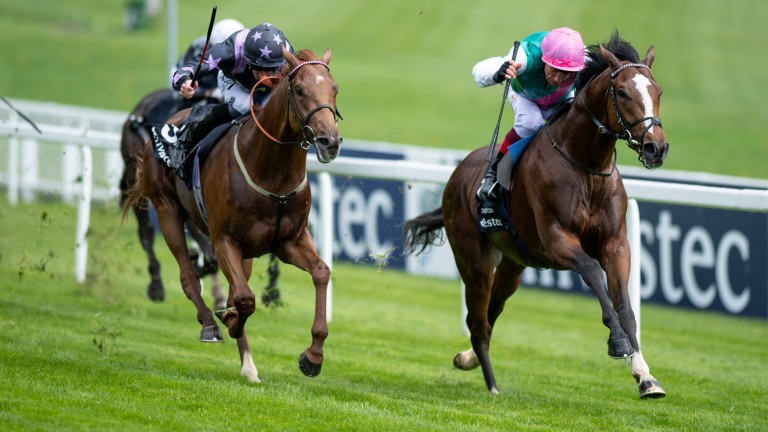 If the longer-range meteorological forecasters are right there is a chance Crossed Baton could get the opportunity to give the Investec Blue Riband Trial the litmus test back at the course in 38 days time.
"If we get a hot summer he could be back," said winning trainer John Gosden after Khalid Abdullah's home-bred Dansili colt and Frankie Dettori had to overcome having to go to plan B in the Listed warm-up contest.
Gosden, keen to support the enduring Derby sponsors Investec, explained: "The best ground for him would be good to firm. He's a big boy but with not the biggest feet and he flows over faster ground."
Derby quotes from the owner's racing manager and Dettori were certainly not flowing as fast while bookmakers dismissed Crossed Baton with Paddy Power going 25-1 (from 33-1).
Crossed Baton, who had walked round the paddock half asleep, was alert out of the stalls and the tactic of getting a lead went out of the window with Dettori not fussed to be left in front to set his own agenda.
Allowed to quicken in his own time Crossed Baton looked a ready winner into the final furlong before tiring and holding My Lord And Master by just a head.
"That's further than Cracksman last year so he must be a better horse!" joked the winning trainer and jockey referring to the colt who finished third in the Derby last year before producing a stunning performance to Champion Stakes victory.
"Cracksman wasn't as strong as him at this stage," added Gosden. "I don't think the extra two furlongs will be a problem on his pedigree but we will take it a day at a time."
Frankie Dettori, successful in the Listed race for the fourth consecutive year, dictated matters on the colt, and the pair never looked like getting caught.
Dettori added: "He has got to step up on this but hopefully this race will make him grow up. It was not a Derby-winning performance.
---
We are now on twitter click here to follow us.